I am continuing to update signs at the Los Angeles Zoo. Over a decade ago, the Zoo hired me to paint a fossa for their species identification sign. Fossa are described as ferocious Madagascan carnivores that prey on lemurs and lost children. Illustrating one was a difficult job because the Zoo didn't have the fossa yet, and little information was available about the animal. All I could find were legends about them and fuzzy photos, and this old engraving.

I told my neighbor's sons about the scary animal, and one of them wrote a report on it for school. His teacher gave it a failing grade, saying he had made it all up!

Anyway, I did the best I could and came up with a painting for the Zoo's exhibit. Here is the artwork on a bookmark, on the right -->.



I was pretty close. Most fossa do look like that. But not our Zoo's fossa. Ours have bred and reached a ripe old age. They are grayer and huskier. To me, they look more like bulldogs and less ferret-like.
So, I'm grateful that the Zoo allowed me to revise the artwork last week. The sign had deteriorated and was slated for replacement, so this was the opportune time. At first I just fixed the fossa to look more like the animals we have on exhibit. (See below):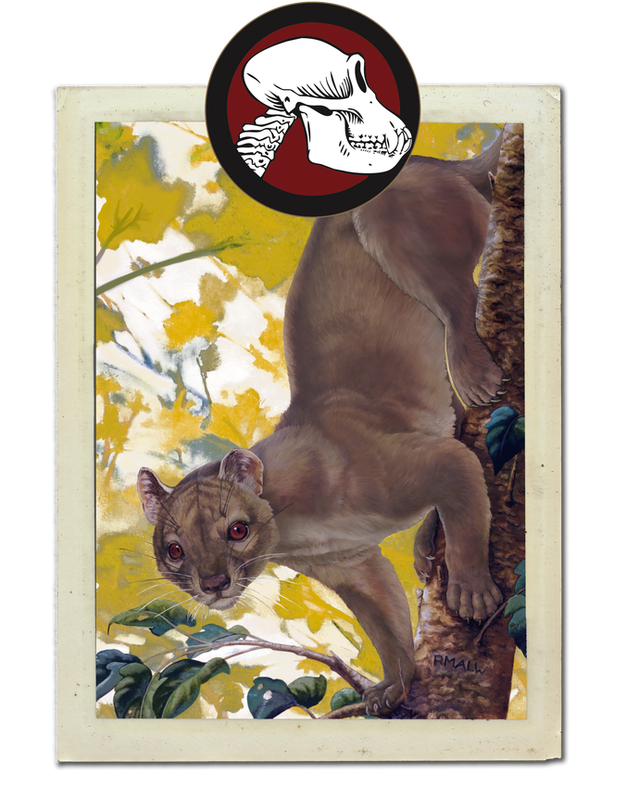 But then the subject of the painting didn't match the background. The fossa looked too dull compared to the brightly colored foliage. So I made it into a dusk scene, and rearranged some leaves so they wouldn't interfere with the updated text.

I just sent off the final graphic design to the printers. Hopefully we will get this sign installed soon. You should come see the fascinating fossa at the Los Angeles Zoo – they're in the roundhouse to the left of the chimpanzees. (I've heard the other stuff is pretty cool there too.)

​- by Michelle Leveille