This is the second in our series of posts featuring bone maps illustrated by Michelle Leveille for the Los Angeles County Museum of Natural History. In this post we explore the ceratopsia of the Dinosaur Hall.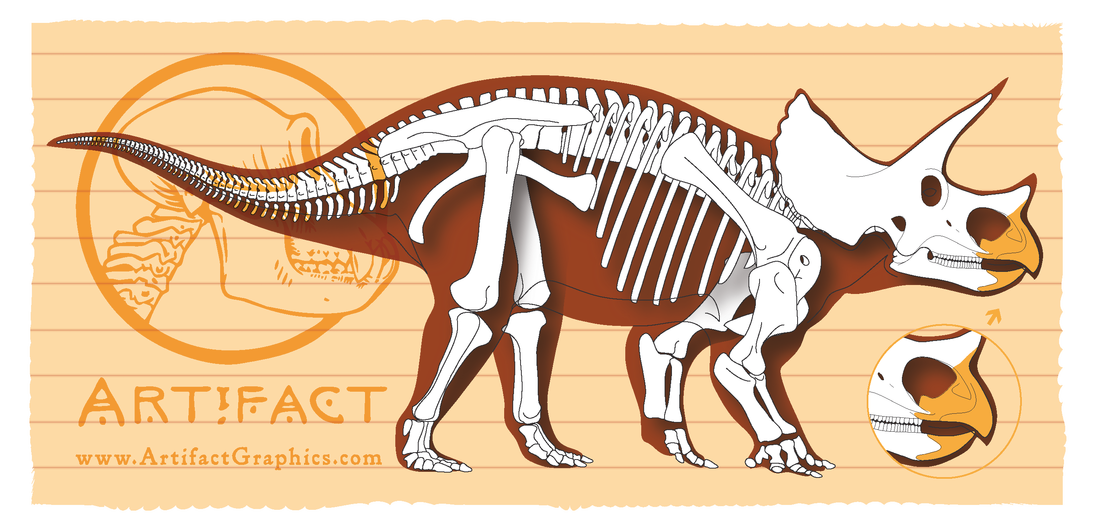 One of the distinguishing characteristics of ceratopsians is their rostral bone, found in no other animals. The rostrum is their beak bone. Parrots and squid and other animals may have beaks which are similar in appearance, but they are not made of bone; they are composed of keratinous growth.

The most well-known of the ceratopsia was triceratops. The LACMNH Dinosaur Hall has the only "complete" fossilized triceratops skeleton.
It is considered complete in the sense that none of it is a reproduction or molded bone. It is composed of the fossilized remains of five different animals, each represented on this diagram by a different color.
​

The LACMNH's collection is also distinguished by its triceratops growth series. The Dinosaur Hall has a baby, juvenile, and adult triceratops on display.
There are many triceratops fossils in the Dinosaur Hall, but triceratops were not the only ceratopsia. There have been almost 50 species of ceratopsian dinosaurs discovered in North America, Eurasia, China, Japan, and Australia. The LACMNH displays some found locally:
The Dinosaur Hall exhibit features fossilized pathologies, or dinosaur injuries, as well. One display shows what appears to be a twisted rock. As Michelle's diagram clarifies, it is actually a malformed pair of triceratops vertebrae:
That's all of the Ceratopsia we have for today's posting. They're extinct.
​
Artifact's next blog post will be about something other than dinosaurs. When we return to bone maps, we'll show you fossil groups that don't get as much press coverage as sauropods and ceratopsians before we release the T-rexes.